| | |
| --- | --- |
| Share your comments on this tune... | |
"When I finally met Mr. Haggart with the letter from Warner-Chappell and photos of my meeting with them, he was really surprised..."

- Catherine O'Brien
Bass player and arranger Bob Haggart composed the song "I'm Free" in October of 1938 while a member of Bob Crosby's Orchestra. Haggart wrote the solo within the song with fellow band mate, trumpeter Billy Butterfield, in mind. The band would record "I'm Free" that very day.

The following year the publishers of the song decided "I'm Free" had potential as a vocal hit, and Johnny Burke was enlisted to write the lyrics. In an era when cute and romantic had given way to urbane, Burke devised a clever gimmick to tell a love story: casual conversational lyrics telling only one side of the conversation. The result was "What's New?"

The song's evolution doesn't end there. In the 1990's Australian jazz vocalist Catherine O'Brien was visited by piano player, journalist, and historian Dick Hughes, who told her that in his opinion, "the best trumpet solo of all time was Billy Butterfield playing the Bob Haggart composition 'I'm Free' recorded with the Bob Crosby Band in 1938." O'Brien suggested Hughes write lyrics to the original title, and when he declined she spent the course of an evening and night writing her own. After tackling another Haggart song, "My Inspiration," and gaining encouragement from local veteran jazz musicians, O'Brien contacted Bob Haggart and delighted him by singing her lyrics over the phone:

I'm free
You've said goodbye and I'm free
...

© 1994 Catherine O'Brien. All rights reserved.
(Used by permission)

It took O'Brien a couple of years to finance a trip to the United States, but in 1996 she crossed the Pacific. The singer obtained copyright permissions for publishing "What's New?" as "I'm Free" with her lyrics and, with paperwork in hand, met with Haggart at a jazz festival and again when he was playing at Zinno's in Greenwich Village. O'Brien explains "When I finally met Mr. Haggart with the letter from Warner-Chappell and photos of my meeting with them, he was really surprised and impressed that I had met with them and he took the letter. He told me the history of the songs and their recordings over lunch - fascinating stuff!" Catherine O'Brien recorded both "I'm Free" and "My Inspiration" on her 1996 CD LA or Busk. To see her work, visit www.catherineobrien.com.

"What's New?" was introduced by Bob Crosby and His Orchestra with vocalist Teddy Grace in 1939, rising to number ten on the pop charts. Recordings to make the pop charts include:

And in 1983, "What's New?" was the title track for Linda Ronstadt's first of three standards CD's with arrangements by Nelson Riddle.
More information on this tune...
- Jeremy Wilson
Musical analysis of "What's New?"

Original Key
C major, modulating to F major for the bridge
Form
A1 – A1– A2 - A1 (see "Comments")
Tonality
Major throughout
Movement
Primarily step-wise, descending

Comments (assumed background)

This is a lush ballad with a chord progression similar to "Here's That Rainy Day" and the bridge of "Where Is the Love" (a.k.a. the "Ladybird Turnaround"). The I goes up to a bIII, proceeding up to the bVI before dropping a half-step to V7 (in the original key, this is C –Eb7 – Ab7 – G7). The V7 then resolves to the parallel minor (i), taking a bit of a tonal "detour" before resolving. The rising movement of the harmony makes for nice contrast to the descending motion of the melody (which may have inspired the lyric, in which the singer says one thing but is feeling something else altogether).

The bridge, normally a "B"section, is simply the same tune and chord progression with some slight melodic alteration in the last two measures.

Ballads can be as much of a challenge to the performer as fast tunes, often more so. This is a piece that was definitely meant to be sung and should be performed in a cantabile manner, requiring great breath control and tone support for wind players. Pianists, guitarists and vibraphonists will definitely want to explore the guide tones for countermelodies and secondary motifs that can maintain melodic interest under the long sustained notes.

K. J. McElrath - Musicologist for JazzStandards.com

Check out K. J. McElrath's book of Jazz Standards Guide Tone Lines at his web site (www.bardicle.com).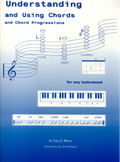 I was surprised and interested to learn that the title didn't become "What's New" until lyrics were written. I had always assumed that the title referred to all the "new" keys in the song.
I don't understand why your analysis (above) says that the tonality is major throughout, since it goes to the key of Cm in the A-sections and Fm in the bridge. I understand why you're calling the bridge another type of A section, but to me, it still makes sense to think of the song as AABA.
Your analysis shows C - Eb7 - Ab7 - G7. I confess I've never heard the original, but I don't think I've ever heard it with a dominant 7th on the bVI chord, and I very much dislike it that way. I do it as
C |Bbm7-Eb7 | Abmaj7 | Dm7b5 - G7 | Cm6 | Dm7b5-G7 | C
etc. In other words, I see it as I, then ii-V-I in Ab, then ii-V-i in Cm, then ii-V-I in C. The bridge is I in F, ii-V-I in Db, and ii-V-i in Fm (and it does not return to major as the A-sections do).
Gary E. Myers, musician, author
MusicGem
---
Are you a published Vocalist or Instrumentalist?
Add a comment and we'll credit you with a link to your site. (more...)
"What's New?" was included in these films:
---
Dive Bomber (1941)
Captains of the Clouds (1942)
Torch Song Trilogy (1988, Billie Holiday)
Additional information for "What's New?" may be found in:
Thomas S. Hischak
The Tin Pan Alley Song Encyclopedia
Greenwood Press
Hardcover: 552 pages

(1 paragraph including the following types of information: history, lyric analysis and performers.)
Trumpeter Billy Butterfield was featured on the inaugural Decca issue of this tune with Bob Crosby's Orchestra. Butterfield recorded the piece several more times: on a session with pianist Jess Stacy (who had just joined Crosby's band) in 1939; with Eddie Condon in 1944; and with his own band in 1947.
Pianist/composer Tadd Dameron's 1949 recording featured brilliant trumpeter Fats Navarro. A few months later alto saxophonist Charlie Parker produced his own version. On an album with strings, Clifford Brown, another brilliant trumpeter (whose life was cut short by a tragic auto accident), performed a critically-acclaimed version. Throughout the 1950s and '60s the tune appeared on a number of jazz recordings.
Chris Tyle - Jazz Musician and Historian
---
Click on any CD for more details at Amazon.com
Anthony Braxton
What's New In the Tradition
1995 Steeplechase 37003
Original recording 1974

Those unaccustomed to hearing Braxton play straight-ahead jazz will be struck by this swinging collaboration with Tete Montoliu, Neils-Henning Orsted Pedersen and Albert "Tootie" Heath. It is quirky, to be sure, but also displays his command of the jazz tradition.
Louis Armstrong
Louis Armstrong Meets Oscar Peterson
1997 Verve 539060
Original recording 1957

Armstrong, on vocals only, and Peterson perform this tune as a duet. Peterson's accompaniment is unimpeachable and Armstrong shows, with little embellishment, his stunning mastery of the jazz standard.
Billie Holiday
Music For Torching
1995 Verve 527455
Original recording 1955

Holiday, late in her career, offers a world-weary and achingly beautiful "What's New," featuring the alto saxophone of Benny Carter.
Stan Kenton
Contemporary Concepts
2003 Blue Note 42310
Original recording 1955

Arranger Bill Holman's influential style is heard here in its early peak on this exciting arrangement of "What's New." This is one of the Kenton band's most swinging performances, thanks in no small part to the propulsive drumming of Mel Lewis.
Frank Sinatra
Frank Sinatra Sings Only for the Lonely
Capitol 94756
Original recording, 1958

Whether or not you consider Sinatra a jazz singer is beside the point. This early "concept" album with Nelson Riddle deserves mention for its excellence.
Milt Jackson
Wizard of the Vibes
Blue Note Records 32140
Original recording 1952

Vibraphone master Milt Jackson makes the difficult look easy with this wonderful bop rendition of the song.
This section shows the jazz standards written by the same writing team.