Peter Spitzer has designed this seven-part series for musicians, students, and fans of the jazz standards. Peter is the author of Jazz Theory Handbook and the Easy Classics series (Mel Bay Publications).
---
On selected Song pages you'll now find links to play-along tracks and free chord changes. (Details)
"JazzStandards.com is a resource for musicians and researchers, and rewarding for anyone interested in song."
Doug Ramsey, Author and Jazz Critic
"Jazzstandards.com does a very useful and unique service for all lovers of jazz on their beautifully constructed site. Don't miss it!"
Chuck Sher, Sher Music Company
Our Directory page lists other jazz education websites. The latest addition is:
Guide Tone Lines teaches you the nuts and bolts of arranging, orchestration, and improvisation, with an emphasis on jazz standards.


Our jazz historian Chris Tyle has been given top honors by the Penguin Guide to Jazz on CD. Only one in one thousand CDs are given a crown, the guide's special token of merit.
Check out Chris Tyle's Silver Leaf Jazz Band's CD New Orleans Wiggle at CDUniverse.com.
Here's an example of one of the 300+ Jazz History Notes Chris has written for JazzStandards.com:
"How Deep Is the Ocean?"
Benny Goodman's 1941 recording of this number no doubt brought it back to the attention of the jazz world. But it wasn't until Coleman Hawkins' 1943 version that the tune really caught on with jazz players.
Hawkins had probably played the number with Fletcher Henderson's Orchestra in the early 1930s when it was initially popular. Using an approach similar to that of his 1939 hit "Body and Soul," Hawkins is accompanied by a rhythm section of Ellis Larkins (piano), Fats Waller's guitarist Al Casey, bassist Oscar Pettiford and drummer Shelly Manne, a group he would make several successful recordings with. The results are astounding; Hawkins outdoes his own version of "Body and Soul," and plays an unaccompanied coda that is brilliant.
Click on Songs to see more history notes or click History for Chris Tyle's decade-by-decade perspective of jazz standards history.
"Sophisticated Lady"
FORM: A -A -B -A
ORIGINAL KEY: Ab major ("A" sections) and G major ("B" section) on Ellington's 1933 recording
TONALITY: Major throughout
MOVEMENT: "A" sections -upwardly arpeggiated, descending chromatically; "B" section consists of leaps in both directions, ranging from a 3rd to a 7th
COMMENTS: For a song that is one of Ellington's most angelic, it is devilishly difficult, particularly for the vocalist. It begins with a standard ii7 - V7 -I progression, however, the pickup note and its harmony are a half-step higher. The chord progression then leaps up a minor 6th (in the original key, from Bbm7 to Gb7) before descending chromatically to the V7 resolving to I. The second part of A is another standard harmonic progression, I -VI7 -II7 - V7 resolving to I -but the composers cleverly disguise this by a chromatic descent from I to VI7. The "B" section is uses the fairly standard I -VI7 -ii - V7 progression (I Could Write A Book, I'll Take Manhattan, At Long Last Love, Indiana, et. al.) followed by its...
---
Click on Songs to read more musical analyses.

We have Reading and Research information on over 600 of our song pages. Each of these song pages tells you where to go for more information and what type of information you'll find there: historical, anecdotal, biographical, music analysis, lyric analysis, song lyrics, sheet music, and more. Click on this song link and scroll to the bottom right for an example:
The Evolution of Jazz Standards
What is a jazz standard? Who decides what songs are best to play? Jason Wolbach's The Evolution of Jazz Standards: Realizing the Interpretation of Repertoire in Jazz Music sheds light on the history of the jazz standard repertoire, as well as possibilities for future adoptions into the collection (Kindle edition). More...
by Jimmy Heath and Joseph McLaren
Pianist Monty Alexander put it most succinctly. "There's no one like him. He's nonpareil." Jimmy Heath is a giant among giants. Musicians of all generations revere the saxophonist, praising his playing, his unique sound, his composing, arranging and orchestrating skills, his magic as a teacher, his humor, humility and humanity. More...
Jazz Singers: The Ultimate Guide
by Scott Yanow
Jazz critic and author Scott Yanow tenth book features 521 singers profiled through the year 2007, sketches of 198 more singers, and much more. We were impressed so have decided to feature a review of it. More...
But wait! There's more...
In our library are two more books with similar titles: Singing Jazz and Jazz Singing. One is a decade old and the other precedes Scott Yanow's guide by nearly two decades. All three have their merits and all three are reviewed by our editor, Sandra Burlingame. More...
MP3 players and iTunes on all 1000 song pages.
At JazzStandards.com you'll find:
Embedded 'MP3' players and iTunes links on all 1000 song and instrumental pages allow you to listen and compare versions of each tune (requires JavaScript -- see the example above
Getting Started sections in the top 100 ranked song pages. Getting Started guides jazz fans and student musicians to definitive or otherwise noteworthy recordings
Additionally, JazzBiographies.com, a companion website, features over 2,200 entries for songwriters, jazz instrumentalists and vocalists. It offers the most efficient means of locating biographies of jazz musicians and songwriters.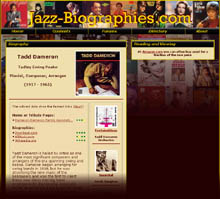 Oscar Peterson -- after hearing Art Tatum play "Tea for Two"
"We had a beer or two and I said, `Hey, man, I'd like to hear you play!' ... I couldn't believe what I was hearing .. By the time he got through I couldn't take it anymore..."

Click on Songs for more origins.
---
Abbott and Costello films produce two jazz standards?
It is remarkable that "You Don't Know What Love Is" and "I'll Remember April," two of the top jazz standards, were a product of Abbott and Costello films.
Click on Songs and then on the song title for the rest of the story.

Jazz vocalist Karrin Allyson talks to JazzStandards.com about her upcoming CD. In addition to the interview, Sandra Burlingame comments on the 2006 CD Footprints on which Allyson introduced several jazz instrumentals with new lyrics (click here for the interview).

You can visit Karrin's website for a biography and tour schedule at karrinallyson.com.
---

Jazz pianist and professor Randy Halberstadt tells us why he chooses tunes to play, record, and write about (click here for the interview). His highly recommended Parallel Tracks CD (left), with Jeff Johnson on bass and Gary Hobbs on drums includes the jazz standards, "In the Wee Small Hours of the Morning," "Invitation," "The Touch of Your Lips," "Well You Needn't," and "Everything I Love." You may visit his website at randyhalberstadt.com.

Randy provides comments on "Just You, Just Me," and "Mean to Me."
"What's New in Jazz Standards," is a series that explores new lyrics for established instrumentals, emerging standards, and more.
The latest article is an interview with lyricist, vocalist, and composer Jon Hendricks who has inspired generations of lyricists and singers.
Hendricks is noted for expanding the art of vocalese to include multiple voices singing various instrumental parts. The term "vocalese" was first used by noted jazz critic Leonard Feather in a 1959 article in Jazz: A Quarterly of American Music to describe the art of melding new lyrics to the frame of classic jazz instrumentals.
The first article in the series is an interview with lyricist and vocalist Lorraine Feather who has fit lyrics to a number of Fats Waller and Duke Ellington instrumentals.
In the second article of our Jazz Standards Education series, jazz journalist Terry Perkins talks with Marian McPartland about her award winning and highly informative radio show Marian McPartland's Piano Jazz.

Marian McPartland (full story)

The first article in the series is on NPR's Jazz Profiles, hosted by Nancy Wilson.